Animal Success Stories
We love to hear wonderful stories about how your Doberman changed your life. To add your story, if you have adopted from us, please email us at: info@drawi.org
All you need is love.....and a dog!
Click a letter to find an animal or
view all
.
Rambo
Hi DRAWI
I figured you would like an update on Mr. Rambo. We love that little whine box dearly and will continue to keep him spoiled and healthy. He loves snow and getting sprayed with the hose but God forbid even one raindrop hits him. He adjusted fairly quickly with a routine. Very friendly and always wanting to please which is great.
Here is his new hat. He hates it but has no choice given how cold he can get!
Azul
Mr. Azul chilling with his Doberdad. His family said he's been such a love and great addition to their family! They just love him.
Jake
Jake and his family sent this note:
Thank you all for giving us this new life and purpose. To put love and joy back into our lives.
To all of you for your time, care and love so I could go to my new home and life.
With lots of love and doggie kisses.
Thank You
JAKE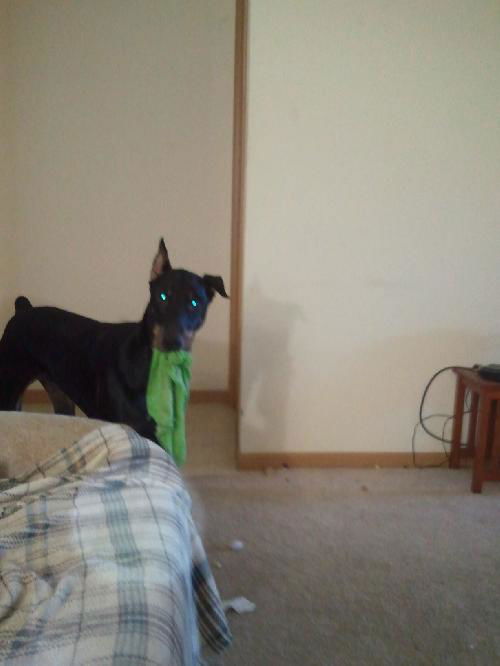 Elmer
Enjoy this adorable summer video of Elmer by clicking link below, his family shared with us and wanted to let us know when they adopted him from us five years ago, in 2014, they have enjoyed watching him loosen up and settle into forever family life.
Can't get any cuter than this!
https://www.facebook.com/jamie.buchanan.5661/videos/10101372484522217/UzpfSTEzNDA3MzYxMDAwNDc2MToyMTY4NDgxMjc5ODk3MzA3/
Lincoln
What can we say about Lincoln?We adopted this gentle giant when he was 1 1/2 years old. He is the smartest dog we have ever had and he is quite the character. He loves to stick his cold nose in everybody's business and has become a master at snuggling. We had to erect a 6 foot fence to keep him in the yard because he would just leap over the 4 foot fence. Our life has been incredible with him in it. He is 4 1/2 now and 115 pounds of lap dog.
Click a letter to find an animal or
view all
.